Description
Climatic chambers for plants, animal species and parts needing a controlled environnement
Reach the performance level of a walk in growth chamber for your small-scale trials.
Our climatic growth chambers are fully custom-made, including :
Lighting: external or internal layout, vertical and / or horizontal, Leds or Fluorescent tubes, Light spectrum according to your needs

Climate control: on the temperature and / or hygrometry level

Atmosphere control: CO2 injection and control, …

The number of climatic and photoperiod ranges to control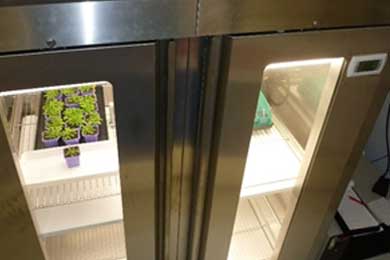 These laboratory climate chambers can be used for germination tests, growth, In Vitro culture, culture in liquid medium, incubation for pathological tests.
Our design basis for climatic chambers can be :
Your detailed specifications, including the required climatic and luminous performances as well as the expected homogeneity·

The type of tests to be carried out with the study model, culture medium and the studied vegetative stages. Thanks to our biotechnology plant skills, we will be able to offer you the most suitable configuration for your research.
STRADER offers a wide range of mobile growth chambers manufactured in stainless steel finish or white lacquered galvanized steel.
These lab chambers are designed with rounded interior angles, in compliance with sanitary standards and for easy maintenance.
The casing is constructed of 70 to 90 mm insulated panels injected with CFC-free polyurethane foam at 42kg / m3.
Consequently, the insulation is optimal. Besides, the door is provided with magnetic joints to ensure a good sealing.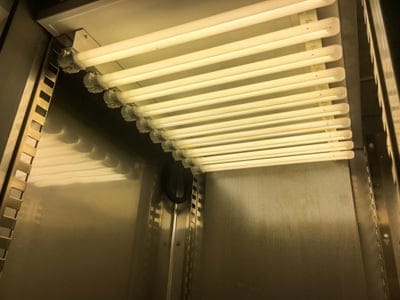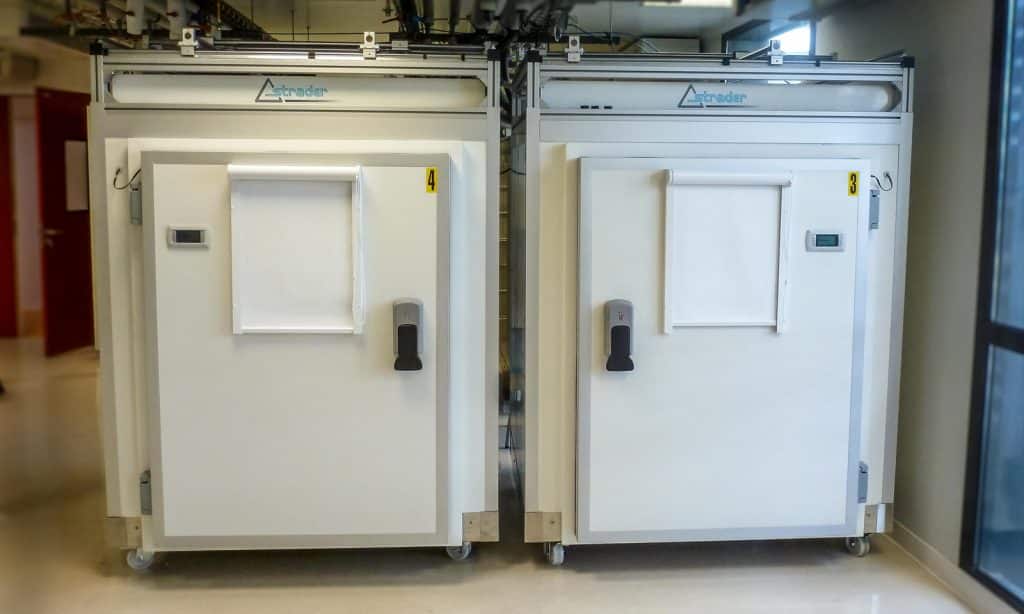 Depending on the required homogeneity, the air cooling technology may be direct expansion or chilled water system (connection to an existing network or via a refrigeration unit supplied).
The air heating is driven by electric resistances, except in case of a hot water network availability.
According to the demand, the climatic chamber hygrometry can be controlled in humidification and/or dehumidification mode. If the site is not equipped with reverse osmosis water, a water tank can be added.
The intensity lighting can be fixed or variable, through a 0-10V signal.
A PLC controls all the climatic and luminous parameters of the climatic chamber. Two photometric ranges can be standardly set up for each parameter and up to 24 in option.
Each laboratory climate chamber undergoes a total of 24 hours of factory testing at each point in the enthalpy range of the specification request.
Commissioning is done by our technicians or by the customer with telephone support.