Modular, high-performance environmental chambers for your trials and crops!
Why is the Innovea® S400 growth room made for you?
The Innovea S400 climatic chamber allows a small footprint for a large cultivation area, up to 6.8m².
Thanks to its simplified operation, it is particularly suitable for all types of users, from private individuals to professionals.
With the Innovea S400 range, you will be able to carry out your tests and cultures easily. From In Vitro culture to the growth phase, including germination, pathological tests, insect rearing, or mollusc rearing, this climatic chamber will adapt perfectly to your needs.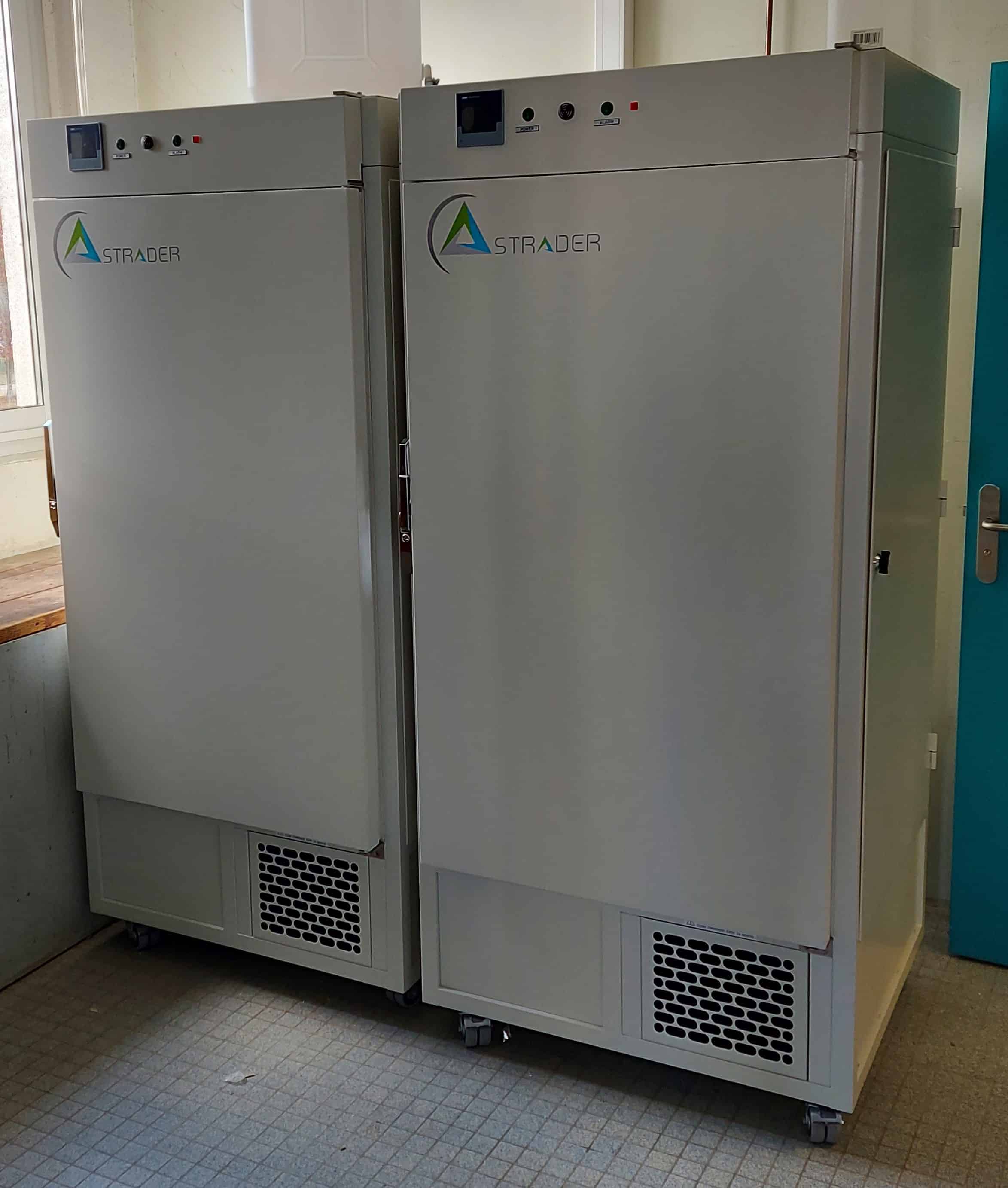 Physical Characteristics
Useful volume and external dimensions:
Innovea S400 : 432 l (935 x 863 x 1997 )
From 5 to 20 culture shelves, with 0,36 m² of surface per shelf
Vertical air flow
Vertical LED lamps placed behind a glass to avoid heat input in the enclosure
Temperature range (light off) : -5°C to +50°C
Hygrometry : 40 to 85%.
Electrical connection: 220-240 V 11A 50Hz
Programming: Digital or manual multiprogram controller
Features
The small size and simple operation of the Innovea S400 climatic chamber make it an everyday work tool. Suitable for tight budgets, it is as efficient as the largest models.
It is available with a simple manual controller or an optional digital controller.
It is available in its most basic and economical version or with numerous functional options for interior and exterior design, lighting and programming.
I'm not an expert on climate enclosures, so I'm afraid I won't be able to use them.
The Innovea® S400 is the easiest to use with its manual or optional digital programmer. We provide you with all the technical documentation for the start-up and we remain at your disposal to help you in your first steps as a user.
How can I change the intensity of the lighting?
The Innovea® S400 is supplied as standard with LED lighting, the intensity of which can be reduced by switching off certain tubes. As an option, it is possible to have dimmable LED tubes that will allow you to modulate the global light intensity from 0 to 100%.
I don't have a lot of room, I don't know if I could fit it in my space.
With its size of 0.93 m x 0.86 m x H1.997 m, the Innovea® S400 phytotron occupies a small footprint, fits under standard doors and can be placed in many locations.
Can I see my crops from outside the compound?
As an option, we can install an oculus that will allow you to control your tests or culture without opening the door.
What do I need to connect my Innovea® S400 speaker?
An electrical outlet (see dedicated question), a condensate drain and an osmosis water inlet in case of humidification management (osmosis water network or jerry can option to be filled with osmosis water)